To further inform myself on the nature of curation, museums, and collections, I will look at two examples – Unveiled: 200 Years of Wedding Fashion from the V&A Museum from past Te Papa Exhibitions, and the design focused Metropolitan Museum of Art's exhibition In Pursuit Of Fashion, and look at the reasoning behind the curation of these exhibitions and strategies involved.
Exhibition #1: Unveiled: 200 Years of Wedding Dresses
The Te Papa exhibition Unveiled, is one I did visit when I was younger, although I didn't fully appreciate the ideals and interesting points of discussion reflected in this collection of wedding dresses. Now, I think that is was about taking a look at the history of weddings, and how much of society and it's attitude has changed in relation to marriage, what it represents, and how that is reflected throughout society. Personally, I believe that a lot of this can be attributed to an increase in women's rights around marriage, and the concept of 'till death do us part'. This is because of how the lifespan of humans has be extended far beyond the age of say 30 or 40, and in the modern day we now can divorce, fall out of love, an have a very different attitude to what marriage means – a far cry from, for example, Ancient Greece or Rome, where the act of marrying was not usually about love, but rather solidifying relations between families, states, or kingdoms.
The next question is, of course, to ask what was the drive behind this exhibition and collection? Why wedding dresses? What was happening at this time? The answer is quite simple – the marriage of Prince William and Kate Middleton. The first major British Royal Wedding post 2000, if I'm not mistaken. The engagement for said wedding occurred approximately a year prior to the wedding and exhibition. This Royal Wedding posed a certain question of reflection. Of how influential wedding dresses have been, in fashion – from Queen Victoria's lace dress, to Princess Diana's poofy sleeves – to how so many people pay close attention, the Royalists. The old fashioned traditions of wearing white to the slow moves to break from said Western traditions, with other colours, other cultures.
In terms of exhibition strategies, I think the main one is the focus on the cultural event – i.e. the Royal Wedding. This is very clear in the title of the exhibition as well, explicitly British, and even from the Victoria and Albert Museum, the wedding couple that changed the wedding dress from just a Sunday Best dress, to its own special occasion wear only once luxurious dress. Secondary drivers would have been to perhaps take a look at how fashion and society were changing – it was 2011, over a decade into the 21st century. Wedding dresses were not the only things to change over 200 years. Attitudes, values, and society in general, I think was a very different place.
Other strategies with a different focus – the fact that this exhibition was in NZ – meant commissioning local kiwi designers to design a dress for the exhibition. This included WORLD, Lindah Lepou, and Jane Yeh, representing different facets and attitudes towards weddings and the dress within NZ from Pacifica to contemporary to traditional.
Exhibition #2: In Pursuit Of Fashion: The Sandy Schreier Collection
The exhibition I chose to look at within the design museum of The Met was In Pursuit of Fashion, as it is related to my degree of Fashion Design, as well as that it appealed to my taste in fashion. This exhibition and collection is on show from Sandy Schreier, an American Fashion Historian who has loaned some of her vast 15,000+ personal collection to The Met as a part of it's celebration of 150 years as of 2020, some of which she will gift 165 pieces at the end of the exhibition. Perhaps the most interesting aspect of this collection as that it is treated not just as a collection of couture, but rather as a collection of art – with which I wholeheartedly agree with, as the level of craft and time and skill put into couture is incredible.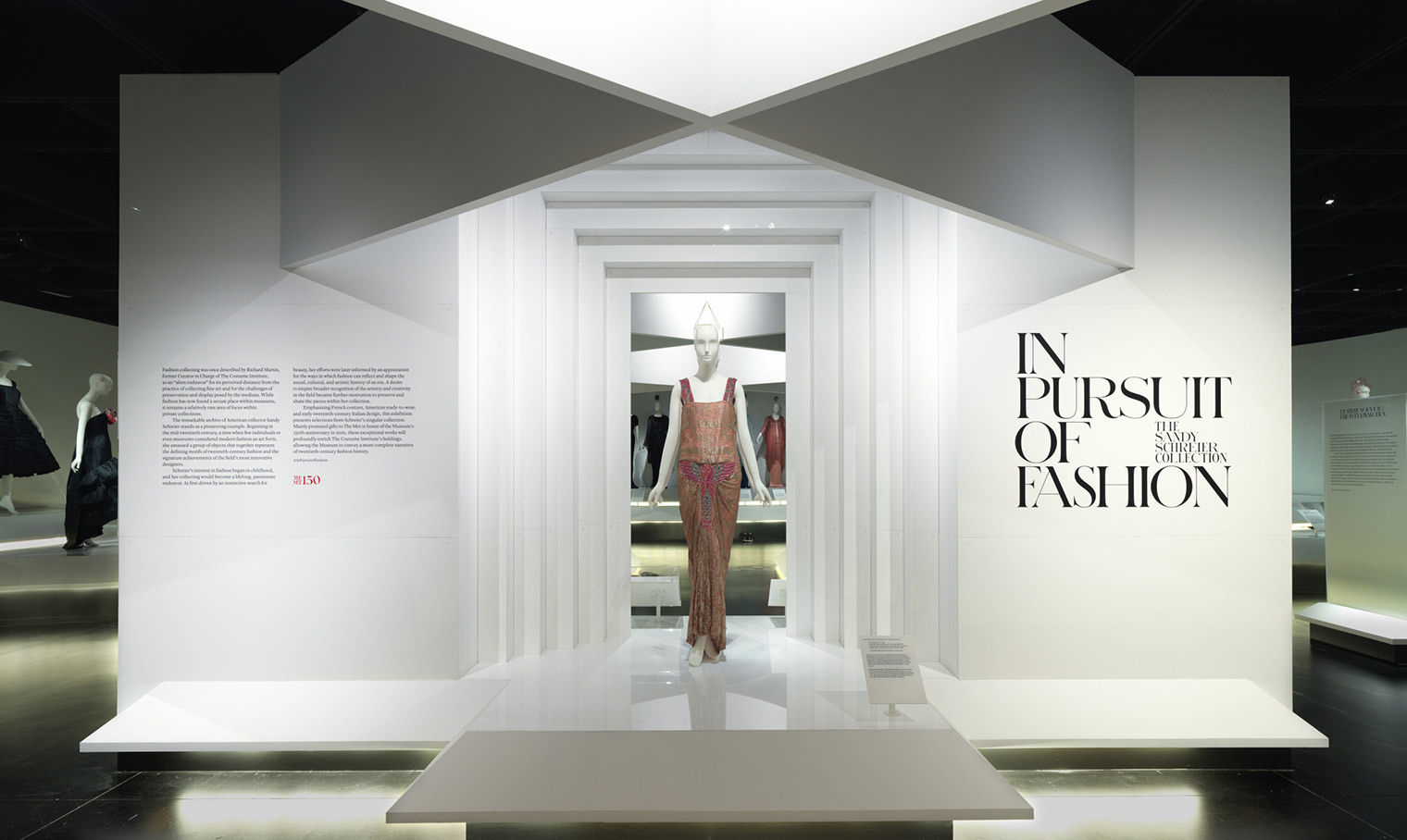 I think that the drive behind the exhibition is indeed The Met's 150'th anniversary commemoration, and I think more specifically for the 'Costume Institute' within the museum itself which specialises in such an area of fashion. And from that, I believe that the drive behind this collection is also because helps in portraying a more cohesive fashion timeline, " allowing the Museum to convey a more complete narrative of twentieth-century fashion history."

As for exhibition strategies, I think that collaboration with a private collector is the biggest one, as all the garments are specifically from Schreier's collection, as the exhibition title emphasises. Apart from the more obvious, I do think that treating the garments less as just fashion, and more as art is also an interesting strategy. It is mentioned that "Fashion collecting was once described by Richard Martin, former Curator in Charge of The Costume Institute, as an "alien endeavor" for its perceived distance from the practice of collecting fine art and for the challenges of preservation and display posed by the medium." Essentially, historical fashion and collections of fashion are a unique and to some a bit of an odd thing to categorise or know how to interact with, and so by changing the perception to more of an art perspective is one way in which both collectors and audiences can more easily wrap their heads around this concept (although personally I do not have such trouble).